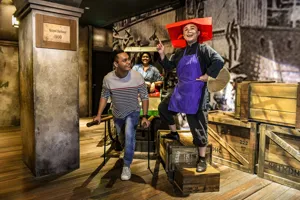 Images of Singapore
Explore the vibrant story of Singapore, tracing its journey from a humble fishing village to a 21st-century powerhouse. Embark on the captivating walkthrough of different sets, complete with special effects and immersive theming.
For school bookings of history learning journey, please click here. 
Book now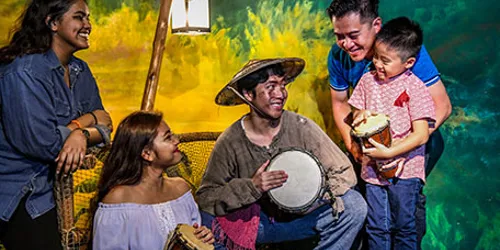 Malay Fishing Village
Experience the historic moment of treaty signing - the founding of Singapore.
Before the British colonisation of Singapore in 1819, the area referred to as 'Temasek,' was a Malay Fishing Village. In those times, the orang laut (sea gypsies) constituted the earliest inhabitants of Singapore, dating back to the late 12th and early 13th centuries. Following the signing of the treaty in 1819 with Sir Stamford Raffles, trading activities flourished near the river mouth, leading to an economic upswing. This presented lucrative opportunities that drew in numerous Chinese and other immigrants. What was once a humble fishing village has transformed into the modern Singapore you see today.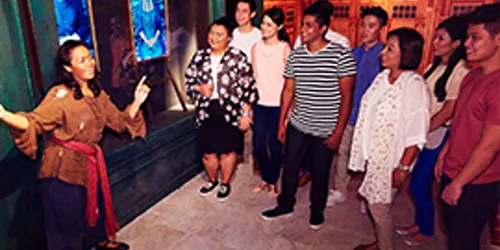 Commercial Square
Explore Singapore's historic financial hub from the 1800s through our engaging exhibition!
In 1823, Commercial Square, renamed Raffles Place, served as Singapore's primary business centre. It was flattened to reclaim adjacent swamps along the Singapore River and stood as the bustling heart of Singapore. Presently, the original structures in Raffles Place have been revitalized and replaced by contemporary skyscrapers and renowned banks.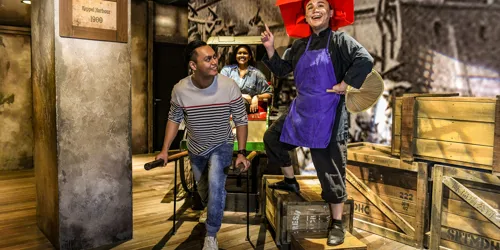 Chinatown
Visit Chinatown in the 1900s through a captivating exhibition in Singapore. From cramped workers' living quarters to the vibrant activity of the harbour.
Chinatown (牛车水) was designated as a residential area for Chinese immigrants. The name 牛车水, meaning 'bullock water cart,' reflects the historical practice of transporting water using animal-driven carts. Rapidly evolving into Singapore's most densely populated area, Chinatown encompassed a diverse array of businesses, coolie quarters, bazaars, restaurants, theatres, shops, and brothels. Presently, Chinatown remains as the core of the Chinese community, preserving the rich history of traditional culture and arts.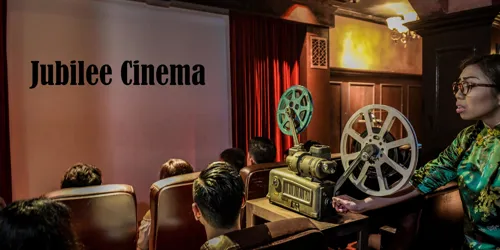 Jubilee Cinema
Would you join us at the Jubilee Cinema?
Opened in the 1930s, Jubilee Theatre featured 33 luxurious seats on its third floor and enjoyed sold-out performances in the early 2000s. It was then demolished for the construction of the Raffles Hotel. Today, the site is home to several shophouses, restaurants, and the Jubilee Ballroom.
*This is a set up of Jubilee Cinema with no actual film screening.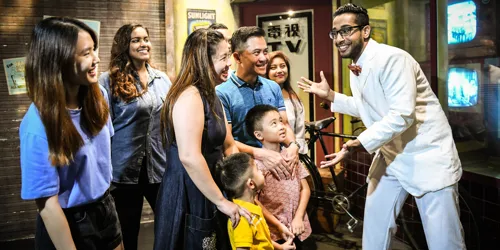 Television Shop
In the past, the television only offered a few hours of evening entertainment in warm and fuzzy black and white, unlike what we have today.
Join us at our history exhibition in Singapore to catch footage of Singapore between 1945 and 1965. Singapore gained independence in the year 1965!